Lifestyle
Black women and girls celebrate their natural hair with an annual photo session at the Freedom Monument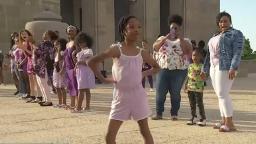 KANSAS CITY, MO. (KCTV) – Confidence and celebration were at the heart of KC Curly's natural hair photo shoot on Saturday.
Crissi Curly, founder of KC, said: "For me, it's self-worth because as a child, if you feel like your hair isn't pretty then you start to go deeper and think you're not. have any self-worth. Curly.
At the Freedom Monument and dressed in purple, the women posed for photos, walked the runway, and fell in love.
A mother and daughter duo from Minnesota.
The mother, Erin McAlpin, said it was important for her daughter to see the big picture of her beauty and also an opportunity for McAlpin to be a part of her reality.
"Sometimes Aubrey has to be a brave girl and be in worlds not like her. So here's your chance to get exposed and I'm the one who got to experience it. I really feel it's important for both parts," she said.
This is the sixth year of the KC Curly natural hair photo shoot. According to Crissy Curly, she hopes it will become a festive event in the future.
Copyright 2022 KCTV. Copyright Registered.