News
Boeing to pay $200 million for misleading investors about plane safety | Business News
Boeing has agreed to pay $200 million (£178 million) to settle allegations that it misled investors about the safety of its 737 Max plane.
The model was discontinued for 20 months in 2019 after two fatal crashes – one in Indonesia and one in Ethiopia – that killed a total of 346 people.
The Securities and Exchange Commission (SEC) accused aircraft manufacturer and former chief executive Dennis Muilenburg of making material public statements about the aircraft and related automated flight control systems. regarding the accident.
After the first crash, Boeing knew the system posed a safety problem, but assured the public that the plane was "as safe as any aircraft that has ever flown in the skies," the SEC said.
Neither Boeing Muilenburg also did not admit wrongdoing, but they agreed to orders that included a $200 million penalty for the company and $1 million (£889,995) for the former boss.
Muilenburg was fired in December 2019 after Boeing clashed with regulators over when to bring the 737 Max back into service.
The SEC said it also falsely claimed that there were no loopholes in the plane's certification process from the outset.
"Boeing and Muilenburg put profits above people by misleading investors about the safety of the 737 Max in an effort to restore Boeing's image," said Gurbir Grewal, director of the SEC's enforcement division. after the crash, said Gurbir Grewal, director of the SEC's enforcement division.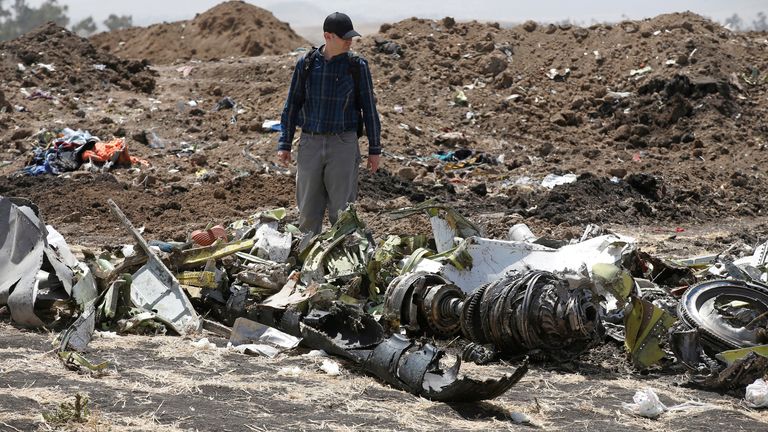 A fund will be established for the benefit of aggrieved investors, the SEC added, which saw Boeing shares rise 0.4% in after-hours trading.
Boeing said it had made "fundamental changes to strengthen" its safety procedures and explained that "the settlement is part of the company's broader effort to responsibly address outstanding legal issues" related to the accidents.
Read more:
Lion Air: Looking back at the deadly past of Indonesian airlines
Plane carrying 132 passengers and crew crashes in China
The first crash of a Lion Air flight in Indonesia, occurred in October 2018, and the second took place less than six months later in Ethiopia in March 2019.
Last year, Boeing admitted responsibility for damages in a lawsuit filed by the family of 157 people who died
in the 2019 crash.
Some trials are expected to begin in 2023 to help resolve the claims.