Sports
Gallagher Premiership: Courtnall Skosan's final attempt gives Northampton victory over Wasps | News about Rugby Union
The Northampton Saints scored twice in the final two minutes to secure their 40-36 win; despite full-back Jacob Umaga being sent off, Wasps appeared to have won after leading 36-28 into the closing stages.
Last Updated: 10/09/22 7:19 pm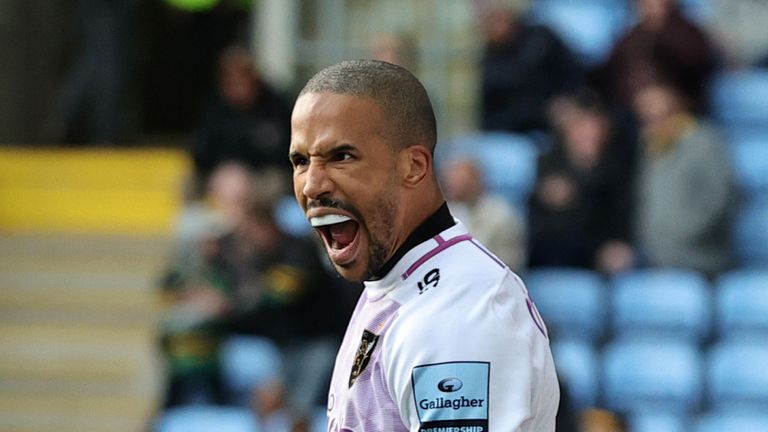 Courtnall Skosan's final push gave the Northampton Saints a phenomenal 40-36 win over Wasps, as the visitors scored twice in the final two minutes of the frenetic Gallagher Premiership.
Despite full-back Jacob Umaga being sent off, Wasps almost certainly won as they led 36-28 and went into a hot period at CBS Arena, with Northampton losing fourth in five games.
But the guests, who were far behind at their best, had other ideas, leaving much of the courtyard stunned by their late double.
Wasps forced several late game changes, with John Ryan replacing Vincent Koch at full-back and Ben Morris replacing Tom Willis at the back.
Dan Biggar, who announced on Friday that he would be leaving Northampton at the end of the season, opened the scoring with a simple penalty from the front of the posts after five minutes.
But it was the home side who scored the first goal of the game in the 11th minute as Nizaam Carr broke through some lackluster defenses before slamming his pass for Jack Willis to cross.
Biggar then shortened Wasps' lead to one point with his second penalty, but it was soon increased again when a huge overlap on the right resulted in Josh Bassett put Paolo Odogwu at the corner.
Umaga failed to convert but he took another penalty after Biggar was penalized for offside before scoring a superb shot from midfield as visitors' discipline vacated them again.
The Saints then gave themselves a first-half lifeline when Biggar made a superb drop-off for Alex Coles to score and reduce the deficit to 18-14.
Biggar then made an easy penalty within three minutes of the re-start, but two quick attempts yielded bonus points for Wasps. Gabriel Oghre rushed in from more than a meter before Charlie Atkinson saved the ball after chasing his kick in front.
The Saints quickly equalized as Fraser Dingwall shortened the defense before passing Ollie Sleightholme down the left flank.
Umaga then extended Wasps' lead with another penalty, but he was then sent off for carrying Skosan out in mid-air after he fouled George Furbank's corner kick, leading to the Saints are awarded a penalty.
A penalty from Will Haydon-Wood with three minutes remaining seemed to have finally secured the win for the Wasps, only for Northampton to produce a stunning finish.
Coles ran into the second minute of the afternoon in the 79th minute and there was still time for Skosan to claim the most unbelievable win by running down the left after Tommy Freeman had picked him.