News
How to wash a backpack and all the tools for the right wash
Your everyday bag, whether it's a sports nylon bag backpackclassic tote fabric, or a sleek leather handbag, will take a while in use. Frequent handling of it, placing it on the ground and other dirty surfaces, using it to store food and drinks that could spill and/or leave a foul odor are examples of how frequent use can cause damage. can make a backpack or bag really dirty.
Cleaning a bag on a daily basis is actually really easy – really, the hardest thing about it is remembering to do so! With the help of experts, we've broken down the best ways to clean backpacks made from synthetic materials like polyester or nylon, canvas and cotton tote bags, and leather backpacks and bags.
We've also consulted experts to come up with instructions on how to hand wash bags, which can be helpful to know in case your lunch explodes in your bag, leaving you alone. a mess that needs to be cleaned up ASAP.
How to wash polyester and nylon backpacks

Most nylon and polyester bags are machine washable. For best results, follow these tips.
Before washing, unzip all compartments and shake the bag to remove dirt.

Cut any loose threads and remove any straps or removable parts or embellishments such as pins or ribbons.

Use an enzymatic stain remover to remove accumulated dirt.

Place the backpack in a protective laundry bag to prevent damage to the straps and zippers.

Wash the backpack in cold water and on a gentle or delicate wash cycle.

Reshape and dry the backpack after washing.
When applying a backpack stain treatment, focus your efforts on the handles and bottom corners of the bag, where dirt builds up over time, making the bag look filthy. An enzymatic stain treatment like Zout is best for removing stains.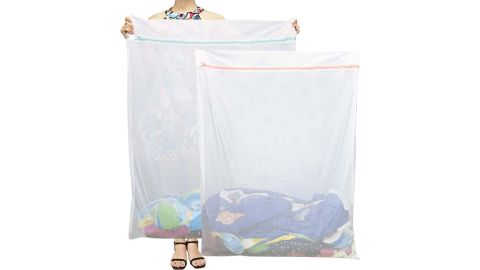 If the backpack will be washed in a top-loading washing machine with a center agitator or in a pile of other items that the backpack may cling to, place the backpack in an oversized mesh laundry bag or inside a pillowcase to protect the straps. belts, zippers and other small parts from getting stuck during washing.
Dry the backpack flat on a mesh drying rack or on a clean towel. Swiping hand towels or bath towels and stuffing them in a bag while they dry can help reshape and speed up drying time by wicking moisture from the inside of the backpack.
How to wash fabric and cotton totes

Just like backpacks, most canvas and cotton bags can be machine washed, following the same instructions. Always dry cotton and canvas bags in the air.
It should be noted that lightweight cotton and canvas tote bags will wrinkle when washed; Some wrinkles will lessen as the bag dries, but if the bag doesn't look the way you want after washing, iron it up to restore its look. Using spray starch will help the bag look sharper and prevent the bag from creasing when used.
How to clean backpacks and briefcases

Cleaning leather backpacks and tote bags can't be done in the washing machine, but the process is simple and doesn't take much time.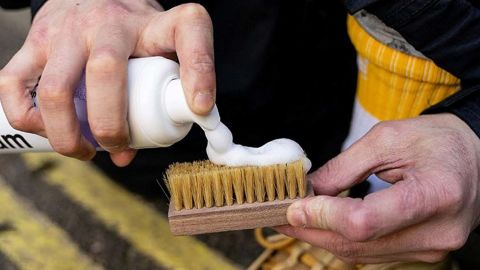 Founder Jason MarkkJason Angsuvarn, explains how to use his brand's signature leather cleaner, which works on leather shoes, bags, belts, coats and other accessories. "Use a soft bristle brush with our RTU Foam cleaner to keep leathers clean and stable," he says.
Add foam to the brush and gently but firmly brush the foaming detergent onto the bag, paying special attention to the handles and bottom corners of the bag, where dirt accumulates.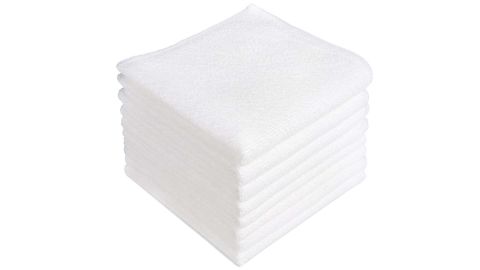 After cleaning, use a soft light-colored cloth to wipe the leather cleaner and polish the bag.
Another option for taking care of leather goods is to use a mixture of leather cleaners and oils. To use, apply a small amount of detergent to a soft cloth and rub the cleanser and conditioner into the skin in a circular motion. Then switch to a clean piece of cloth and polish it away.
How to wash bags and backpacks by hand

It can sometimes help if you know how to clean a bag by hand – like when there's a big water spill in your bag every day (or when you can't get to the laundry room!).
Jacqueline Sava, founder Soak and washa detergent-free cleaner that makes washing clothes and accessories by hand easier because it takes the rinse step out of the process, explaining how to wash items by hand, including light bags and backpacks.
First, she says, "Always, always read the label before you wash anything. Being a follower of care instructions will not only keep you from accidentally damaging an item you love (which is always broken), but you'll help it last longer so you can use it again. use (and love it!) for years to come. " Then follow these steps.
Fill a basin with cool water and a lid – about 1 teaspoon – Soaking laundry detergent. Make sure there is enough water to submerge the item and touch it with your hands.

Let the item soak for 15 minutes (longer is fine).

Remove the object from the water and gently squeeze or press out the water; wringing or twisting can damage the fibers.

Roll the item with a dry, jelly-style towel and wring to remove the water.

Lay flat to dry, on a towel or drying rack. Avoid getting wet clothes on furniture, as water can stain furniture and wood can stain wet furniture.