Entertainment
Jessica Chastain bathes Florence Pugh and her nipple-revealing gown!
Jessica Chastain are supporting Florence PughNegative reaction to her nipple revealing dress!
As Perezcious readers know, Florence left one's mouths open in a sheer hot pink top. Valentine gown to the brand's couture show in Rome last week. The dress in question features a long, flowing skirt, a soft high neckline – and a full tulle bodice that reveals her bare chest!
Related: Kim Kardashian and Many Other Women 'Canceled' Independence Day This Year!
It's a huge feminist statement that we absolutely LOVE the most, but unfortunately, there are also a lot of negative comments made about the dress online. The Midsommar the star didn't support hate, though, and made a post on Instagram invokes body-shamers. Really iconic!
Chastain is also on board with Pugh! Tammy Faye's Eyes The star took a look at her Instagram stories on Monday and let everyone know her whereabouts. She reposted Little woman the actress's gallery and caption it:
"Why is it so threatening for some men to realize that women can love our bodies without your permission?"
Yes, girl!!! She continued:
"We don't belong to you."
Lower the mic.
See full article (below)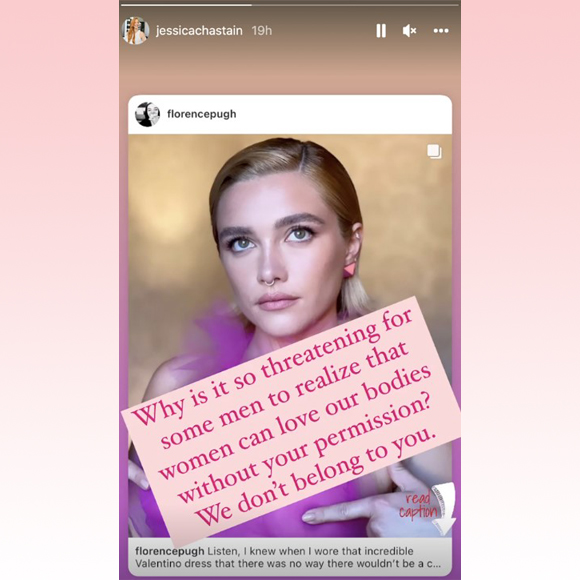 Several celebrities have gone online to defend the British actress, including Ariana DeBose who wrote in a comment:
"RESPECT. Stage = Stage."
Th-ch-th-see Florence's amazing pink robe (below):
Jessica is no stranger to speaking out in defense of women's rights. She posted a strong statement on July 4 expressing her stance on the Roe v Wade overturn. She just captioned a photo of herself holding out her middle finger:
"Happy Independence Day to me and my reproductive rights."
She also opens her heart to Sunday Times about your own experience with reproductive rights:
"I was the first in my family not to get pregnant when I was 17. [Planned Parenthood] It has had a huge impact on my life because it gave me choices. Even saying this makes me sick, but I never thought about 'how do I get more out of this industry?' … I know what it's like [to be denied necessities]. And it made me angry. And I do not [want] anyone else to be denied anything. About voice, seen, acknowledged and appreciated. "
It's time we stopped treating women's bodies as if they were something to be hidden or punished – women shouldn't live in a reality where they are second class citizens! As Pugh put himself in a hashtag, "f**kingfreethef**kingnipple"!
[Image via MEGA/WENN]