News
Liz Truss didn't discuss migrant crossings or Northern Ireland protocol in Macron talks, No 10 says | Politics News
Liz Truss did not discuss Northern Ireland protocol or Channel migration during her meeting with French president Emmanuel Macron, Downing Street said.
No 10 said the prime minister had a "constructive" conversation lasting about half an hour with the French leader, but it focused on energy security rather than the two main points of contention.
The couple held their first bilateral meeting at the edge of the United Nations summit in New York after Ms. Truss sparked controversy by refuses to call the French leader "friend or foe" – instead say "the jury is out".
In softening the tone on Anglo-French relations, a Number 10 spokesman said the two leaders "look forward" to strengthening their partnership.
A spokesman said: "As our people face a difficult winter with great uncertainty over energy supplies and the cost of living, Prime Minister and President Macron stressed the importance of the importance of working together to end dependence on Russian energy and increase energy security.
"We must continue to prove to Putin that his economic blackmail over energy and food supplies will not succeed."
Mr Macron is said to have welcomed their conversations on Ukraine and other European issues, saying: "I now believe in the results, the evidence.
"There is a will to re-engage, move forward and show that we are allies and friends in a complex world."
However, Ms. Truss' official spokesman confirmed they did not discuss controversial post-Brexit deal on Northern Ireland or migration crossings in small boats.
When asked about the crossing of the Channel, the spokesman stressed that the stalled Rwanda policy is the "long-term solution" to the problem.
Regarding the protocol, the spokesperson said: "We have a Bill that will move through Parliament and we want to deal with this with the EU, which is not an issue we necessarily believe in. that can be resolved through a single EU country."
He would not say whether Ms. Truss would raise the protocol with the EU's Ursula von der Leyen on Wednesday.
'If between the French and the British you can't tell if you're friend or foe, we're headed for serious problems.

But the White House has said that Joe Biden will raise it in a meeting with Ms. Truss tomorrow.
National security adviser Jake Sullivan said the US president would "encourage the UK and the European Union to deliver a practical outcome that ensures there is no threat to the fundamentals of the deal". Good Friday".
Tomorrow's meeting comes after President Biden criticized the economic policy Ms. Truss is advocating – although Downing Street insisted it was not aimed at her.
In a tweet on Tuesday, the US president said: "I'm sick and tired of the drip economy. It never worked.
"We're building a bottom-up and middle-class economy."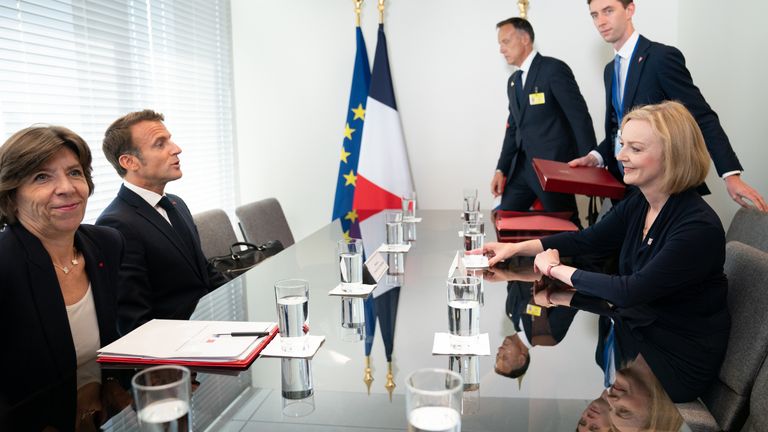 Read more:
Truss is set to become an unpopular Prime Minister to boost economic growth
Liz Truss pledges UK military aid to Ukraine next year
Liz Truss admits UK-US trade deal could be years away
Shortly before posting the tweet, Ms Truss acknowledged her tax cuts would disproportionately benefit the rich – but said she was willing to be an unpopular prime minister to deliver the measures. which she believes will develop the economy.
While President Biden's criticism is certainly intended for a domestic audience, it underscores the divergence between the two leaders' positions as Truss says she wants to forge closer ties with the two leaders. international allies.
But Downing Street dismissed the remarks Tuesday night.
A spokeswoman for Ms Truss said: "Any suggestion that directly criticizing UK policy in some way would be ludicrous.
"No two countries' economies are structured in the same way, each with its own set of challenges."