News
Liz Truss's 'favourite' economist says chancellor 'took his eye off ball' and 'overstepped the mark' with mini-budget | Politics News
The Prime Minister's foreign affairs adviser Liz Truss on the economy has told Sky News the prime minister has "taken his eyes off the ball" and is "overwhelming" with his small budget.
Gerard Lyons, who is often considered Ms Truss' 'favorite' economist, said Chancellor Kwasi Kwarteng did not fully prepare the financial markets for his announcement.
Speaking on The Take With Sophy Ridge, Mr Lyons said: "Prime Minister, while he was focused on the British public and businesses, he was not really prepared enough for the financial markets.
"And I think he took his eyes off the ball a bit, we would say, when he didn't prepare the market for what he was doing on a budget and I feel that he was over the mark last week.
"So it's a combination of all three – the market is feverish because of the global backdrop, the actions of the Bank of England last Thursday but without a doubt, the small budget itself. last Friday triggered this latest series in total events."
Asked if he had had any conversations with Ms Truss or her team, Mr Lyons said he had "made my mind known". He said he was "emphasizing in my article … the malaria state of the market and the need to keep the market running".
When pressed on whether or not they would heed his advice, he said, "Well, sometimes people listen, sometimes they don't, but there are positives to it. But as we are. As we saw last Friday, that's not quite in line with what the market has prepared for and is expecting."
Gerard Lyons: Small budget is not what the market expected

Despite his remarks, Mr Lyons said the budget was "very positive in many respects".
He said it was the "pro-growth agenda" that was needed to "get out of this low-growth phrase".
Mr Lyons' comments about the prime minister's failure to prepare financial markets contrasted with one minister who told deputy political editor Sam Coates it was "bulls" to say that market movement was relevant. regarding small budget announcements.
And on The Take with Sophy Ridge, Treasury chief secretary Chris Philp denied the government had any responsibility and said of course there would be no change.
Sec chief optimistic about tax cuts

Read more:
Ed Conway on the Bank's Unusual Reaction
Liz Truss is a 'danger to the economy', says Starmer
Government agencies ask for 'effective savings'
He said: "Getting the UK economy going is very important. Raise wages and, importantly, pay future tax bills."
Mr. Philp suggested the benefits may not increase as inflation increases. He said a pledge by former prime minister Rishi Sunak to increase inflation-aligned benefits is being looked at amid reports by various government agencies that have been require effective savings planning.
Mr. Philp told ITV's Peston: "We're going to look for efficiency wherever we can find them."
However, he said Treasury would not commit to inflation-matched projected gains.
Frustrated by the decision, he said: "I will not be making policy commitments on live television, it will be reviewed in the usual way, we will make a decision and it will be announced. . I'm sure in the first case. House of Representatives."
On Wednesday, the Bank of England has forced to launch an emergency government bond purchase program to prevent borrowing costs from spiraling out of control and avert "significant risks to the UK's financial stability".
The bank will buy as many long-term government bonds as needed between now and October 14 in an effort to stabilize financial markets.
The announcement had an immediate effect on markets, with data showing that the 30-year bond yield fell back to 4.3%, having risen above 5% not seen since 2002. there on Wednesday. Yields on 20-year forwards fell similarly.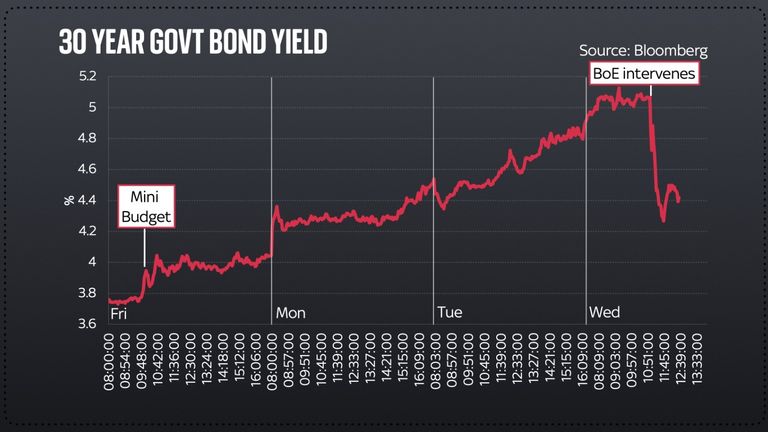 Ms Truss is expected to face public questioning about her economic plans for the first time on Thursday as she toured BBC radio stations in the area for a round of interviews on Thursday. shining. Neither the prime minister nor the prime minister were given coverage of the economy on Wednesday.