World
MI5 received information on money flowing into UK political system with its true origins in China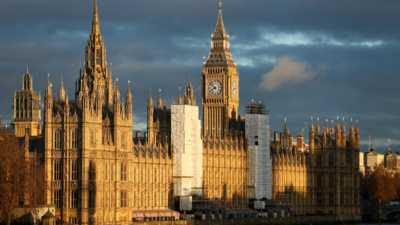 General view of the Houses of Parliament at sunrise, in London. MI% warned that lawyers of Chinese descent engaged in "political interference activities" for China (Reuters)
LONDON: The British security services issued a warning earlier this year stating that a lawyer in the UK was engaged in "political interference activities" for the Chinese state.
MI5's public name Christine Leeand a recent unprecedented press conference with the FBI, marking a change in approach to the security threat posed by China, the BBC reports.
Events highlight not only one woman's path into the highest political circles, but also the changing relationship between the UK and China – and a growing alarm from officials security office. In early July, the heads of Britain's MI5 and the US's FBI made an unprecedented joint appearance in London to publicly warn of the threat from China.
MI5 has slowly received new information suggesting money is flowing into the UK's political system with its true origins hidden in China, the BBC reports.
Specifically, they believe it is affiliated with the United Front Work Department (UFWD). The UFWD has been called a "magic weapon" by the Chinese Communist Party – not a secret intelligence agency like an agency of influence. This is one of the organizations that head of MI5, Ken McCallum, named in his July 6 speech "scam campaigns to buy and influence".
According to the BBC, Christine Lee has engaged in a "seeding operation", reflecting the way the Chinese state operates – a willingness to wait years for efforts to pay off, the BBC reports. Without naming individuals, security sources said there were a handful of candidates from all major parties.
Speaking to journalists after his July 6 speech, the head of MI5 also emphasized this danger: "They do not always seek to influence a national leader or a certain person. That's at the cabinet level. One of the things that's very remarkable is that they're prepared to invest in nurturing people at the local level with potential and early in their political careers."
US intelligence officials also warn that local officials are increasingly being targeted by China.
FOLLOW US ON SOCIAL MEDIA
FacebookTwitterInstagramKOOKS APPYOUTUBE