Lifestyle
Mobile police at a loss to the woman's possible motive to shoot her underage son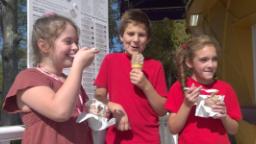 MOBILE, Ala. (WALA) – Police say they are confused as to why a mother shot and killed her teenage son late on Monday.
The shooting happened just before 11 p.m. at Jones Lane's 2000 property in the Highland community of Mobile. An ambulance took the 13-year-old boy to the University of South Alabama Hospital, but he couldn't make it in time.
Police charge the mother, Glenda Marie Agee with murder. She is being held at the Mobile County Metro Jail.
Over the past few years, Mobile has seen a high percentage of teen shooting victims. But Cpl. Ryan Blakely said it's not every day that a child dies at the hands of their parents.
"This is unusual. … This is a first for me at this point," he said.
Agee appeared distraught on Tuesday afternoon when police pushed her wheelchair towards a patrol car to take her to jail. "God, no," she said.
Agree, 53 years old, was tried by reporters to talk to her.
"I love my baby," she said, tears welling in her eyes. "Get away from me. Get away from me."
Police said Agee was not wheelchair-bound during the shooting and was not injured during the incident or her arrest. But they said they allowed her to use a wheelchair on Tuesday because she was weak.
Neighbors described the victim as a good child who lived in a house that police regularly visited. A woman witnessed the aftermath of the shooting.
"When I got home, I just saw it, and when I went through there, I just saw the door open," she said. "I just hate this happened to the boy. It is a good boy. He's just been picked constantly and he has a troubled family. He just had a troubled life the whole time."
Agee has been arrested dozens of times since the early 1990s, charged with crimes ranging from reckless endangerment to public intoxication, domestic violence to driving under the influence of alcohol.
In the past two years alone, officers have been called to Agee's address 34 times for various reasons such as 911 hang-ups, assault complaints and medical emergencies, according to mobile police.
Another neighbor said the victim sometimes played with her children.
"I wish he was in a better situation," she said. "The situation he is in, for a child, is the wrong situation. Because he couldn't grow up like the kid he was supposed to be."
A man in the neighborhood said he had seen police come to Agee's house many times but never questioned whether she loved her son or not.
"She loves him, and he loves her," he said. "For her to kill him, she can't have her right thoughts."
Agee was charged at the time of the shooting with reckless endangerment and second-degree assault by a Prichard police officer in January. The Mobile County District Attorney's Office on Tuesday asked a judge to revoke that tie based on the murder arrest.
Right before the police chased her away, FOX10 New asked Agee if this was an act of self-defense.
"No," she said, as officers put her in the back seat. "I love my baby."
—
Download the FOX10 Weather App. Get severe weather alerts and warnings to protect your location no matter where you are. Available for free in Apple App Store and Google Play Store.
Copyright 2022 WALA. Copyright Registered.