World
New gun attack in east Jerusalem after synagogue shooting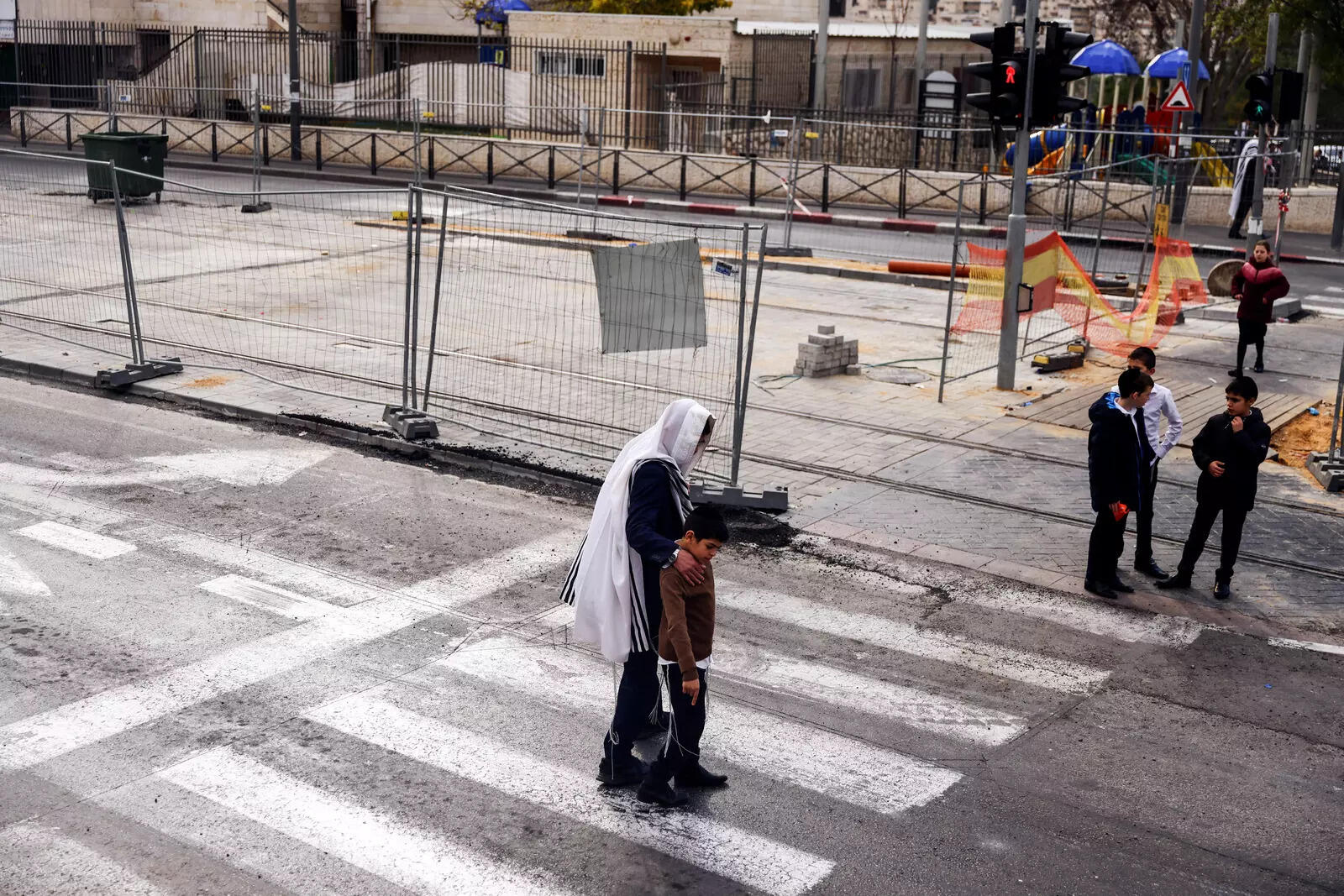 JERUSALEM: A 13-year-old Palestinian boy shot and wounded an Israeli father-son duo in the east
Jerusalem
Saturday, hours after a gunman killed seven people outside a synagogue, raising fears of escalation despite international calls for calm.
After the deadliest series of attacks in years, Israel's security chiefs were preparing to meet to consider tougher measures to deal with the violence.
Saturday morning's gun attack took place in Silwan, just outside the Walled Old City east of Jerusalem, which was annexed by Israel.
An Israeli father, 47, and his 23-year-old army officer son were wounded by bullets in the upper body and taken to hospital, along with the assailant who was shot and wounded at the scene, police and medical staff said.
Police earlier announced 42 arrests in connection with Friday's shooting outside a synagogue in east Jerusalem on the Jewish Sabbath, carried out by a 21-year-old Palestinian. .
The attack coincided with the International Holocaust Memorial Day.
It comes amid heightened tensions across the region a day after one of the military's bloodiest attacks on the occupied West Bank in two decades, as well as rocket fire from militants. in the Gaza Strip and retaliatory Israeli air strikes.
Crowds shouted "Death to the Arabs" as Israeli Prime Minister Benjamin Netanyahu toured the scene of the synagogue attack late on Friday.
Palestinians held spontaneous rallies to celebrate the killings in Gaza and across the West Bank, including in Ramallah, where large crowds flooded the streets chanting and waving Palestinian flags.
Israeli opposition lawmaker Mickey Levy, of the former prime minister Yair Lapidthe center of Yesh Atid warning of increased violence recalls the second intifada, the Palestinian uprising from 2000 to 2005 that caused havoc on both sides.
"What happened 20 years ago, it (starts) happens now," he told AFP.
"We need to sit back and think about how we can move forward and stop this."
Israeli police have continued to appeal to permit holders to carry guns, while far-right National Security Minister Itamar Ben-Gvir said more people should have permits to carry weapons.
"When civilians have guns, they can defend themselves," he told reporters outside a hospital in Jerusalem on Saturday.
The military also announced it was strengthening its troops on the West Bank.
– US visit – Several Arab governments with ties to Israel – including Jordan, Egypt and the United Arab Emirates – condemned the synagogue attack.
But the Palestinian Authority headed by President Mahmud Abbas has not, with his office insisting Israel is "fully responsible for the dangerous escalation".
Palestinian leaders are set to meet US Secretary of State Antony Blinken, who will visit the region next week.
Mr. Blinken will also hold talks with Mr. Netanyahu, the veteran leader's first high-level meeting with an American official since returning to power last month as head of the most right-wing government. in the history of Israel.
Netanyahu's domestic critics continued to protest on Saturday, with thousands flocking to Tel Aviv to protest his controversial judicial reform plan to give politicians more control. to the Supreme Court.
– 'The bullet in the head' – The synagogue shooting has been described as the deadliest attack on Israelis in more than a decade.
The gunman was killed by police in a shootout that followed a brief car chase following the attack.
There is no indication that he was ever involved in militant activity or was a member of an established Palestinian armed group.
Authorities have yet to definitively identify the synagogue attacker, but Israeli and Palestinian media have referred to him as Khayri Alqam, who has been hailed on several social media platforms including his Facebook page. his.
Shimon Israel, who lived near the synagogue and witnessed the attack, said he was waiting. Sabbath day dinner when he heard "gunshots and screams".
"A man stopped (his car) to help… got a bullet in the head and died right next to me," he said.
Police said 42 people were arrested following the synagogue shooting, including family members, relatives and neighbors of the gunman.
Nine people were killed on Thursday in what Israel described as an "anti-terrorist" operation at the Jenin refugee camp.
It was one of the deadliest Israeli military attacks in the West Bank since the second intifada.
Israel said Islamic Jihad fighters were the target.
Islamic Jihad and Hamas later both fired several rockets into Israeli territory.
Most of the missiles were intercepted by Israeli air defenses. The military responded with attacks on Hamas targets in Gaza.
No casualties were reported on either side, but Gaza's armed groups vowed to take more action.