World
New York City braces for Donald Trump indictment after ex-president urges protests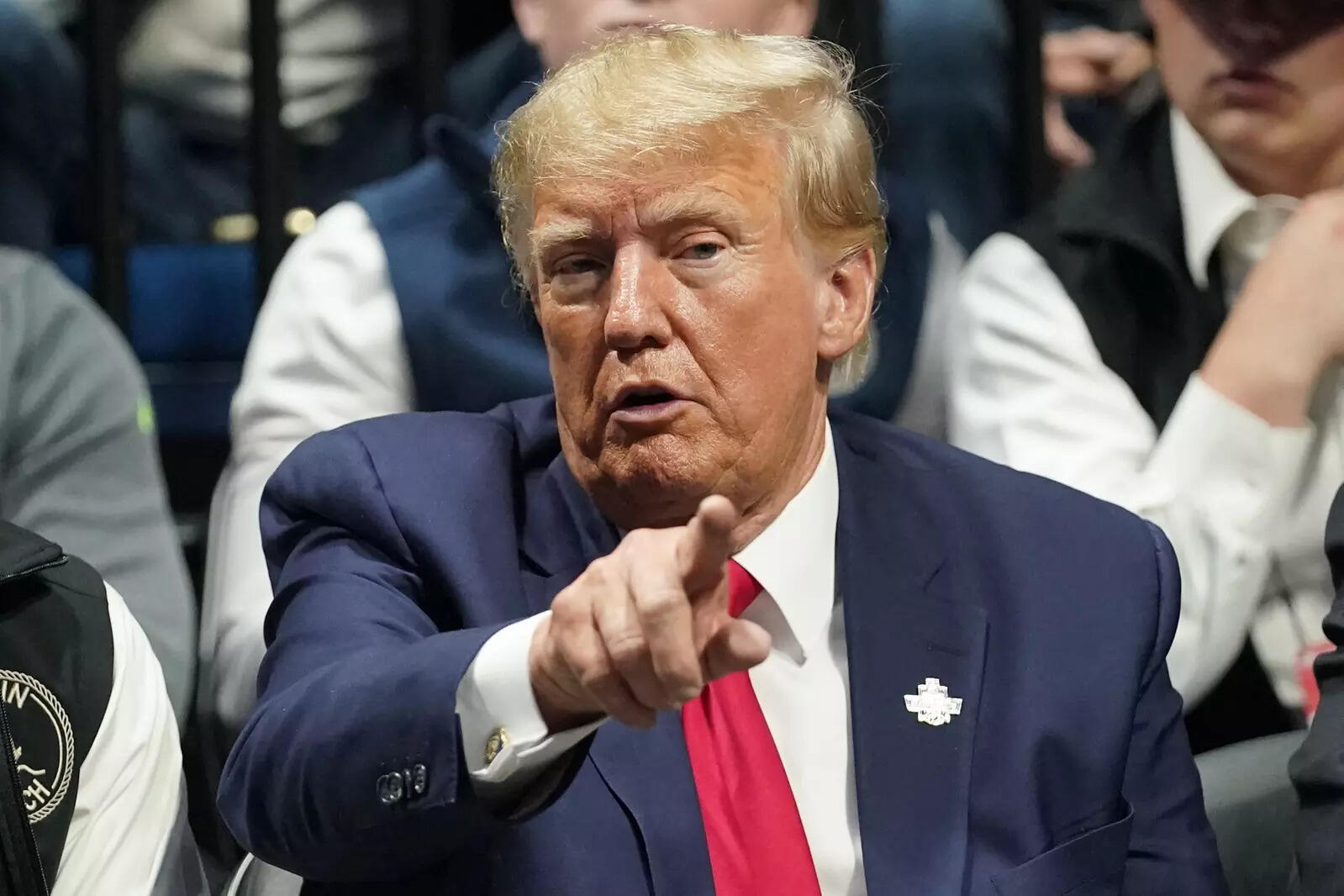 NEW YORK: Workers set up barricades around the Manhattan courthouse on Monday when New York City prepare for a possible indictment of
Donald Trump
about an alleged payment to porn star Stormy Daniels during his 2016 campaign.
This would be the first criminal case against any US president. On Saturday, Trump urged his social media followers to protest against what he said was imminent arrest.
In his call for protests, Trump raised concerns to law enforcement that supporters could engage in violence similar to the January 6, 2021 attack on the US Capitol. United States in Washington.
However, fearful of being trapped, some far-right grassroots groups chose not to heed his appeal, security analysts said.
A grand jury, which heard more testimony on Monday, could bring charges as soon as this week. Trump, who is seeking the Republican nomination for the White House in 2024, had predicted that he would be arrested on Tuesday.
On Monday, the grand jury heard from a witness, attorney Robert Costello, who said that former Trump adviser Michael Cohen processed gag payments without Trump's involvement. .
"Michael Cohen decided for himself – that's what he told us – to see if he could handle this," Costello told reporters after testifying before a grand jury. at the request of Trump's attorneys.
Cohen, who testified twice before the grand jury, has publicly said that Trump directed him to make the payments on Trump's behalf.
An indictment could hurt Trump's comeback effort. About 44% of Republicans say he should withdraw from the presidential race if indicted, according to a seven-day Reuters/Ipsos poll that ended Monday.
The investigation by Manhattan District Attorney Alvin Bragg is one of several legal challenges facing Trump. His office did not immediately respond to a request for comment.
Cohen pleaded guilty in 2018 to federal campaign finance violations related to his arrangement of payments to Daniels, legally named Stephanie Clifford, and another woman in exchange for their silence on the matters they told Trump.
Trump has denied that any such matter has taken place
The Manhattan District Attorney's Office asked Cohen to appear as a rebuttal witness, but he was informed Monday afternoon that his testimony was unnecessary, according to his attorney Lanny Davis. Cohen told MSNBC he was not asked to return on Wednesday.
No sign of instability
New York Mayor Eric Adams told reporters that police were monitoring social media and keeping an eye out for "inappropriate actions" in the city. The New York Police Department said there were no known credible threats.
If charged, Trump will likely have to leave his Florida home for fingerprints and other procedures. Law enforcement officials met on Monday to discuss logistics, several media reported.
Sources say Bragg's office is presenting evidence to a grand jury about a $130,000 payment made to Daniels in the final weeks of the 2016 campaign.
Trump's Republicans have widely criticized the investigation as politically motivated.
Governor of Florida Ron DeSantisTrump's opponent for the Republican presidential nomination, said on Monday Bragg was imposing a "political agenda" that compromises the rule of law, but he also took a hard hit at Trump.
"I don't know why pay a gag to a porn star to ensure silence in the face of some alleged incident," he told reporters.
Republicans in the US House of Representatives opened an investigation into Bragg's office with a letter seeking contact information, documents and testimony related to the investigation.
Trump and other Republicans also said the Manhattan District Attorney's office should focus more on solving crime.
When asked to comment on the letter, a spokesperson for the DA office, citing statistics showing homicides and shootings have decreased this year, said:
"We will not be intimidated by attempts to undermine the judicial process, nor will we let unfounded accusations prevent us from applying the law fairly."
Trump has been impeached by the House of Representatives twice during his presidency, once in 2019 for his conduct regarding Ukraine and again in 2021 for the attack on the US Capitol by his supporters. He was acquitted by the Senate both times.
Several other legal challenges remain
Bragg won a conviction last December against Trump's business on charges of tax fraud.
But legal analysts say the gag case could be more difficult. Experts say Bragg's office will have to prove that Trump had criminal intent, and his lawyers will likely use a range of countermeasures to try to dismiss the case.
Meanwhile, Trump faces other legal challenges, raising the possibility that he will have to shuttle between campaign stops and the courtroom before the November 2024 election.
Trump's attorneys on Monday asked a Georgia court to drop a special grand jury report detailing their investigation into his alleged efforts to overturn a failure in the federal court. his 2020 statewide election.
The filing with the Fulton County Superior Court also seeks to ask the district attorney, Fani Willis, to withdraw from the case, alleging her media appearances and social media posts show bias against Trump.
Trump is also seeking to delay a civil fraud trial, scheduled for October 2, as the New York attorney general alleges a decades-long scheme to manipulate prices. value his assets to win better terms from bankers and insurance companies.
Trump faces two civil trials involving former E magazine commentator Jean Carroll, who claims that Trump defamed her by denying he raped her. A federal judge on Monday denied requests from both parties to combine the two cases into one.