News
Radioactive capsule missing in Australia after falling off mining truck | World News
Australia's emergency services are racing against time to find a small but potentially deadly radioactive capsule that went missing 870 miles (1,400 km) from a mine to a depot. located in the city of Perth.
The 8mm x 6mm unit, smaller than a coin, is believed to have fallen from the back of a lorry on a 22-mile (35km) stretch of road in Western Australia as it was transported from the Rio Tinto mine in Newman to the Perth suburbs of Australia. Malaga.
The device was misplaced after a screw came loose inside a large lead-lined gauge and it fell through a hole. The small silver cylinder contains cesium-137, a highly radioactive isotope that experts say cannot be weaponized.
The units emit the equivalent of 10 X-rays in an hour, and members of the public should stay at least 16 feet away from it, the state government said. Exposure can lead to skin damage, burns and radiation sickness, including effects on the immune system. Long-term exposure can also cause cancer.
The Fire and Emergency Services Department deployed teams with hand-held radiation detectors and metal detectors to try to find it, but state authorities were stymied by a lack of equipment. and has called for outside support.
Search teams are focusing their efforts on densely populated areas north of Perth and locations along the Great Northern Highway.
Superintendent Darryl Ray said: "What we don't do is try to find a tiny device visually.
"We are using a radiation detector to locate the gamma rays," he said.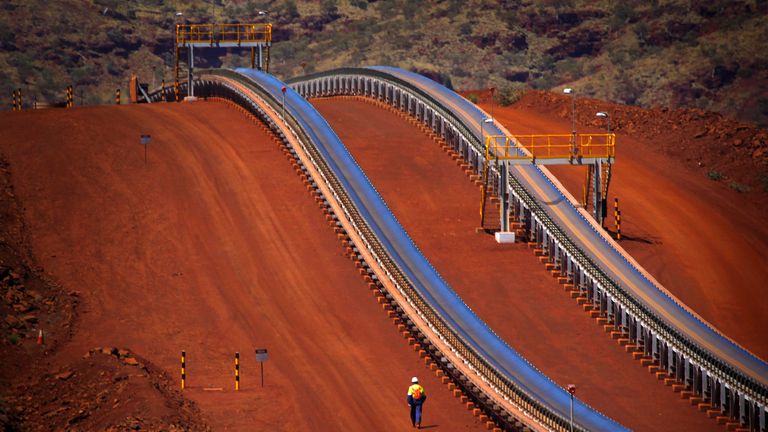 Authorities are using the truck's GPS data to determine the exact route the driver took and where it stopped along the way. They fear the capsule may have been in the tire of another vehicle and could be hundreds of miles away from the search area.
Rio Tinto contracted a radioactive material handling specialist to pack the capsule and transport it "safely" to the warehouse, and was not informed that it was missing until January 25.
Read more on SkyNews:
Mining giant Rio Tinto reveals second largest payout in FTSE 100 . history
'Disturbing' findings of rape and bullying as workplace review at mining giant Rio Tinto
Rio Tinto CEO resigns over destroying 46,000-year-old Aboriginal cave
The Western Australian government waited two days to notify the public on Friday. Its chief medical officer, Andrew Robertson, defended the delay, saying the mine and depot must be searched and ruled out, and the route confirmed.
"We believe that the vibration of the truck may have affected the integrity of the gauge, causing it to break and the actual source to be emanating from it," he said. "It's unusual for a gauge to come loose like this."
"Our concern is that someone will pick it up, have no idea what it is, think this is something interesting (and) keep it."
Police have determined the incident to be an accident and are unlikely to be criminally charged as they have ruled out theft at the warehouse.