Sports
Rangers' Scottish Premier League matches against St Johnstone and St Mirren are shown live on Sky Sports | Football news
Rangers matches to St Johnstone and St Mirren are the latest Scottish Premier League matches selected to be shown live on Sky Sports.
Giovanni van Bronckhorst's team will visit McDiarmid Park on Sunday, November 6, live on Sports sky at midday.
Their away game to St Mirren on 12 November will also be shown live, with that game set to kick off at 12:30pm.
Sports sky will also bring you the first game of the Scottish Premiership after the international break with Robbie Neilson's Hearts welcoming Rangers to Tynecastle Park.
It was one of five matches throughout October to be streamed on Sky, with St Johnstone's clash with Celtic also being streamed.
Stevie Hammell will face Rangers for the first time as Motherwell boss on October 16 when the Ibrox team visit Fir Park before Ange Postecoglou brings his Celtic team to Hearts the following weekend.
Then, Livingston hosted the Scottish Champions in front of Sky cameras on October 30.
Saturday, October 1: Hearts vs Rangers, starts at 12:30pm
Saturday, October 8: St Johnstone vs Celtic, kicks off at 12:30pm
Sunday, October 16: Motherwell vs Rangers, starting at 12 midnight
Saturday, October 22: Hearts vs Celtic, starts at 12:30pm
Sunday, October 30: Livingston vs Celtic, kicks off at 12 p.m
Sunday, November 6th: St Johnstone vs Rangers, kicks off at 12 midnight
Saturday, November 12: St Mirren vs Rangers, kicks off at 12:30pm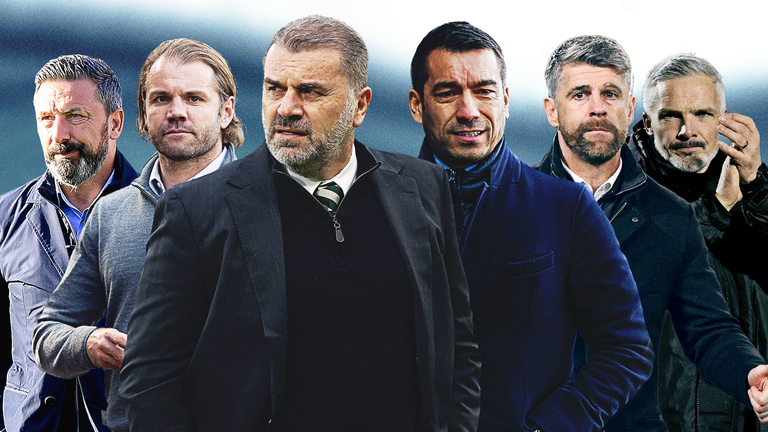 The Scotland team The season begins on the weekend of July 31.
The campaign will take a break in the middle of the season to adapt to the first winter World Cuppaused for the weekend of November 13, before continuing on the weekend of December 17, 18.
The season will end the weekend of May 27/28.
The Premier League Cup Final will be held on Sunday, February 26 while the date takes place Scottish Cup Final confirmed as Saturday, June 3.
The Europa League Final will be broadcast on May 31 in Budapest, Europa Conference League Final will take place on June 7 in Prague and Champions League Final scheduled for June 10 in Istanbul.
SPFL CEO Neil Doncaster looks ahead to new season, discusses birth of VAR, evolution of Scottish Women's Premier League and more

Up to 48 live matches from the Scottish Premiership plus play-off finals.
Live coverage presented by Eilidh Barbour with analysis from Kris Boyd and Andy Walker etc.
Round-the-clock coverage is on Sky Sports Newsabove skysports.com and all over us Sports sky social channels.
The highlights to watch for free of every Scottish Premiership match on our website.
Sky Sports is your ultimate destination for domestic football with live coverage of the Premier League, EFL, Scottish Premiership and Women's Super League.