News
Scientific storage must to reduce grain loss | India News
NEW DELHI:
Punjab
is a small country that contributes too much to India's food security. With only 2% of India's land area agricultural, the country contributes almost a quarter of rice and a third of wheat to the gross national production, outpacing much larger states. However, a sizable percentage of Punjab cereal output is lost before it reaches your table. Some are caused by natural disasters, but the rest are avoidable
loss
.
Studies have shown that the loss of cereals during harvesting, threshing, transportation and storage is quite large. While an earlier estimate fixed this loss at 93%, the Grain Storage Management and Research Institute of India (IGSMRI) put the post-harvest loss as close to 10%.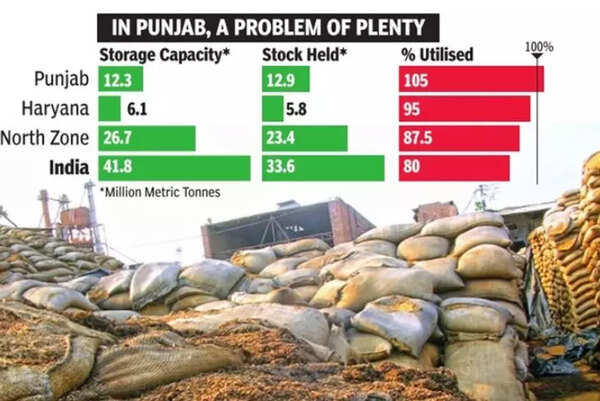 Among all the factors that lead to food waste, there is one that can be easily remedied with an investment – food storage. In a state like Punjab, the available storage space cannot keep up with record production year after year, but more worrisome is the shortage of scientifically developed storage facilities. Every year, thousands of tons of grain are stored in damaged basements.
While that's a huge monetary loss, it also has some potential environmental costs. All the diesel used in tractors, pumps and harvesters to grow and harvest the lost seeds at great environmental cost is also wasted. Fertilizers and pesticides pollute the soil and water, so wasted grains only increase environmental costs with no benefits.
That's why developing scientific storage facilities is key to reducing resource usage, this is the third 'R' of the cycle.
Over the years, Punjab has also been blamed for air pollution in northern India in early winter. The issue concerns the role of the state as the 'granary of India'. Since Green Revolution it has become entrenched in the wheat cycle. Farmers don't have enough time between rice and wheat seasons, so they burn rice straw to have fields for the next crop.
But this approach is not suitable for the fourth and fifth Rs of the cycle – reuse and recycle. A large amount of crop residues are burned in the fields of Punjab every year – 20 million tonnes of the total 51 million tonnes of residues – as biomass that can increase soil fertility in the form of compost, reducing the need for fertilizer.
Several on-site and off-site procedures for crop residue management have been adopted, but these have not yet shown results. The Punjab Remote Sensing Center has recorded alarming levels of crop residue burning at the end of the last three rice crops.
The Punjab government has come up with a number of plans to reduce the burning of crop residues. These include providing residue management machinery and providing subsidies for its purchase. It is also preparing more scientific storage space. These measures will bear fruit in the coming years.