News
Should you upgrade to iPhone 14?
September has arrived, raising the annual question: Is it time to ditch your old iPhone for a shiny new one? $799 newly revealed iPhone 14″ and $999 iPhone 14 Pro are devices with serious promise, offering vastly improved cameras and battery life as well as some innovative new safety features that could save your life.
But not all new iPhones are created equal, and this year marks perhaps the biggest difference between the standard iPhone and its "Pro" version. The iPhone 14 Pro and Pro Max are standouts in the group, offering faster processors, the most advanced iPhone camera, and a new Dynamic Island feature that transforms the way you interact with your iPhone.
If all of that sounds overwhelming, we've got you covered. Here's a guide to who should upgrade to the iPhone 14, who should spend it on the iPhone 14 Pro, and who might skip this year's iPhone altogether.
Apple
Two of the most notable additions to the entire iPhone 14 family are Incident Detection and Emergency SOS by Satellite, two features designed to keep you safe in critical circumstances. The former uses a variety of sensors to detect when you're in an auto accident, with the ability to automatically contact emergency services if you're unresponsive. Just keep in mind that this feature is also coming soon Apple Watch Series 8 and Apple Watch Ultraso you don't necessarily have to buy a new phone to take advantage of it.
If you find yourself with no cell phone signal and need urgent assistance, the iPhone 14's Emergency Satellite SOS feature uses a mixture of hardware and software to connect you to experts via satellite. and ask for your support. And if you're a frequent hiker, you can use this feature to share your location with friends and family members through the Find My app when you're out exploring. .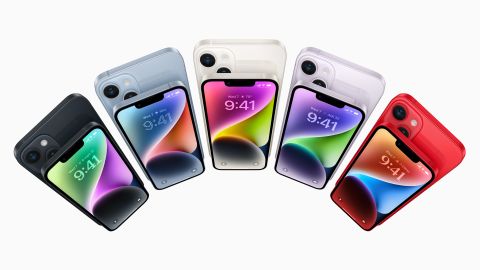 Apple
New to this year's iPhone lineup is the iPhone 14 Plus, which replaces the smaller Mini variant we've had for the past few years. Here Model $899 gives you a big 6.7-inch screen to play games and immerse yourself in your favorite shows – that's the same screen size as $1,099 iPhone 14 Pro Max, but for $200 less. You won't get all of the following display enhancements – including super-smooth ProMotion and Always On functionality for quick reading of important information while the phone is locked – but you'll still get a Large, beautiful screen at a reasonable price.
"The iPhone 14 Plus is exciting for anyone who wants the biggest iPhone with the biggest battery without paying more than $1,000 for an iPhone Pro Max," said Avi Greengart, president and principal analyst. – that would make a lot of people happy. at Techsponential, a technology research company.
Apple
Aside from safety features, improved cameras, and larger size options, the iPhone 14's basic range is largely the same. That being said, if you're using an iPhone 11 of 2019 or later, you'll enjoy a significant upgrade across the board. The iPhone 14's A15 Bionic processor is two generations ahead of that model, which means better speeds overall for multitasking and gaming.
Upgrading from iPhone 11 or later will finally land you in a 5G folding display, potentially meaning much faster cellular connections based on your carrier and location, and opening up offers you many great MagSafe accessories online. Apple also promises "best-ever battery life on an iPhone" on the iPhone 14 Plus, and while we'll have to test that claim ourselves, you'll almost certainly be in for a hit. great durability when upgrading from an old iPhone. . There are also brand new front and rear cameras, which promise better overall photos (especially in low light), an Action mode that removes shake when shooting busy videos, and a camera mode. Cinematic degrees let you add dramatic layers of focus to your clips.
"If you're using an iPhone 12 or later, upgrading for better battery life is worth it," Greengart said, "and carriers will offer generous subsidies on your barter," says Greengart. ," Greengart said. "Anyone that's older and you get better reception with a newer iPhone because the modem supports the newer frequencies that service providers are using."
Apple
While the basic iPhone 14 is a nice incremental upgrade, the iPhone 14 Pro is the way to go for those looking for something really new. The new Dynamic Island feature of higher-end iPhones has dramatically changed both the look and feel of the iPhone – the controversial (but now iconic) notch has been replaced by a much smaller camera hole at the top. front. But it's not just for looks. By working in tandem with iOS 16, this area of ​​the screen can automatically expand and contract in real time to show you things like incoming calls, timers, and important notifications, they all take up less screen space than these normally do. It will be a boon for multitasking and looks simply fun old to use.
New to the iPhone line – and exclusive to the iPhone 14 Pro models – is the Always On display. Like on the Apple Watch (and on many Android phones), this feature allows iPhone to display pertinent information like the time, weather, and select widgets on the lock screen while using minimal power, helping Easily view key information at a glance and lead to better battery life across the board.
The Pro series has always been a top choice for those who are serious about photography, and the iPhone 14 Pro series promises the best iPhone camera setup ever. The star of the show is the new 48-megapixel main camera, which has a significantly larger sensor than the iPhone 13 Pro to capture more details. Factor in all of the aforementioned features of the entire line – including Action Mode and better low-light performance – and you've got an even bigger upgrade. iPhone 13″ Owners can benefit from.
Apple
This year's iPhone Pro series offers not only better features and cameras, but also more power. The iPhone 14 Pro and Pro Max feature the all-new A16 Bionic processor, while the standard iPhone 14 and 14 Plus use last year's A15 Bionic chip. This is a gap we've never seen before on a new line of iPhones. Any of these phones are blazing fast (the A15-powered iPhone 13 produces some of the best speeds we've seen in benchmark tests), but for those who want more Engine for multitasking, photography and general future checking, you're best off with the iPhone 14 Pro.
Jacob Krol / CNN
While the iPhone 14 range brought many great upgrades, it also heralded the death of the iPhone Mini. First seen on the iPhone 12 series, this smaller 5.4-inch variant of the iPhone is ideal for those with smaller hands who want a highly pocketable device without sacrificing any of the key features of its larger counterpart. If you are a fan of small phones, you should use iPhone 13 Mini it's still on sale for $599 or $429 iPhone SE has an older iPhone design with a 4.7-inch screen.
Apple
The iPhone 14 series marks the first time that the iPhone has completely ditched the physical SIM card (the small chip that powers your cellular service) in favor of an eSIM, which allows you to activate and transfer digital cellular plans. . While this may not pose a problem for the average user who chooses a new phone every year through their service providers, it can become a headache for the casual traveler. frequent swaps when abroad or who rely on prepaid SIM cards rather than a set of phone plans.
"Apple's use of eSIM only causes confusion and spikes in tech support calls when things inevitably go wrong, but for most AT&T postpaid users, T-Mobile and Verizon, when your account gets transferred, that's it." Greengart. Those using prepaid SIMs and MVNOs that don't support eSIM will have to wait – possibly just a few months, as this is an issue that must be resolved quickly. Frequent international travelers will need to adopt new habits; instead of buying a prepaid SIM from a kiosk, they will buy an eSIM from an app. "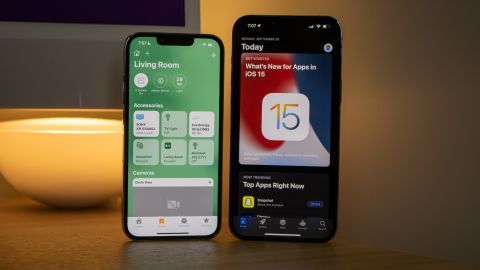 Jacob KrolCNN
There are compelling reasons to upgrade to an iPhone 14 no matter how old your current phone is, but those who picked up last year's iPhone 13 have the biggest reason to wait. For starters, the base iPhone 14 has the exact same processor as the iPhone 13 range, so you won't see a huge change in performance. The iPhone 13 Pro also has many of the key features of the 14 Pro, including a ProMotion display for smooth scrolling, Cinematic video for quality movie recording, a durable Ceramic Shield display, and 5G support. If you bought an iPhone last year, you should be in good shape for at least another few years.
| | | | | |
| --- | --- | --- | --- | --- |
| Display | Super Retina XDR 6.1-inch 2532 x 1170 . display | Super Retina XDR 6.7-inch 2778 x 1284 . display | Super Retina XDR 6.1-inch 2556 x 1179″ display | Super Retina XDR 6.7-inch 2796 x 1290″ display |
| Processor | Apple A15 Bionic | Apple A15 Bionic | Apple A16 Bionic | Apple A16 Bionic |
| Warehouse | 128GB / 256GB / 512GB | 128GB / 256GB / 512GB | 128GB / 256GB / 512GB / 1TB | 128GB / 256GB / 512GB / 1TB |
| Camera | Dual camera system (12-megapixel main camera, 12-megapixel ultra-wide) | Dual camera system (12-megapixel main camera, 12-megapixel ultra-wide) | Triple camera system (48-megapixel main camera, 12-megapixel ultra-wide, 12-megapixel telephoto) | Triple camera system (48-megapixel main camera, 12-megapixel ultra-wide, 12-megapixel telephoto) |
| Battery (video playback) | Up to 20 hours | Up to 26 hours | Up to 23 hours | Up to 29 hours |
| Dimensions and weight | 5.78 x 2.82 x 0.31 inches, 6.07 ounces | 6.33 x 3.07 x 0.31 inches, 7.16 ounces | 5.81 x 2.81 x 0.31 inches, 7.27 ounces | 6.33 x 3.05 x 0.31 inches, 8.47 ounces |
| Color | Midnight, Purple, Starlight, Product Red, Blue | Midnight, Purple, Starlight, Product Red, Blue | Space Black, Silver, Gold, Dark Purple | Space Black, Silver, Gold, Dark Purple |
| Price | $799 | $899 | $999 | $1,099 |