News
Tory conference is shrouded in gloom – has Liz Truss already sealed her own fate? | Politics News
Less than four weeks as prime minister and things couldn't be worse for Liz Truss.
A small budget sent the pound down (it has risen a bit since then), a £65 billion emergency intervention by the Bank of England to support pension funds and the withdrawal of nearly 1,000 contracts. mortgages out of the market in anticipation of a big rate hike later this year.
The Conservatives are experiencing their worst polling since the late 1990s and dozens of Tories are contemplating losing seats at the next election.
The question for me in Birmingham this week is simple: Has Liz Truss' pathetic small budget sealed her fate?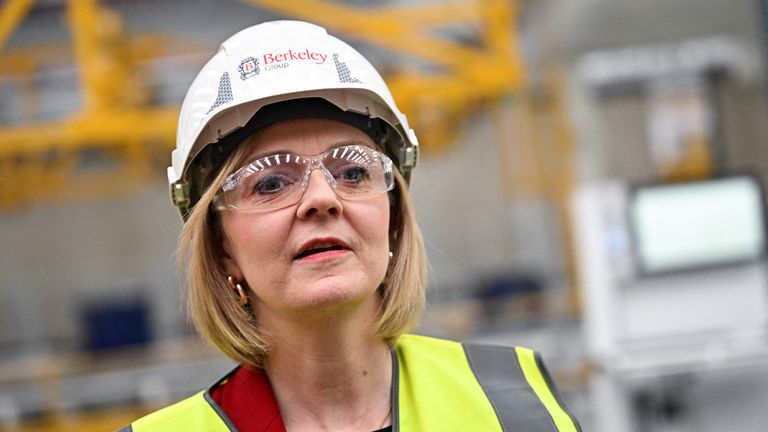 Ask the Conservative MPs, and there has been a movement trying to topple her. Her insistence that no element of her budget be reversed, regardless of political toxicity or obvious economic risks, has led some MPs in particular to say they want her to go.
"Policy changes and personnel changes are needed," said one senior Conservative.
"There are MPs who say she simply cannot lead us through a general election and MPs are making proposals to Sir Graham Brady on rule changes.
"One scenario is that MPs decide on a new Prime Minister and it is not assigned to members.
"People are very worried."
Read more:
Liz Truss follows plan but admits mistakes – and says cutting the highest tax rate was the prime minister's idea
Labor soars to record lead in polls
When I asked the congressman if Ms. Truss could survive Christmas, they told me: "I think there's a chance she'll be gone by Easter."
'This plan won't work'
A former cabinet member also confirmed that colleagues were looking for options to try to remove Ms. Truss, as they whispered to me that they could now resign at the next election in the face of with almost certain failure.
"This plan will not work," they said.
For a new prime minister who in typical times might look forward to a honeymoon rather than muttering about divorce papers, such remarks are absolutely damning and speak volumes of extremes. difficult period she is facing.
As I have never attended a Labor conference more active than last week's, I have never attended a Conservative Party conference so I am not only clouded by the gloom about the election prospects. of the party, but also clearly worried about Truss Management.
And this is more than the existential threat her policies pose to the Conservative Party.
There's also really a fear that she might "boost the economy". As one former senior minister told me after the small budget: "It's crazy and I'm scared."
MPs have mumbled that she will have to change – policies and personnel, or face a confrontation with her party.
One MP told me that 100 MPs easily rebelled against her budget. The political toxicity of abolishing the top tax rate for those earning over £150,000 a year, while weighing benefits cuts in real terms for four million people at the bottom of the income scale into universal credit, evidently visible to many MPs. – even if Mrs. Truss wanted to turn a blind eye.
Read more:
A lesson from 'Reaganomics': The clash between theory and reality could be fatal for PM and the Tory team
Developed nations demand meeting with prime minister as Tory top team doubles down
But it's not just the politics of her small budget, it's the economics of it.
"We can't ignore the cost of line item borrowing," is how one former minister put it. "What are the fiscal rules?"
If the prime minister cannot prove to the country, the market, the Office of Budget Responsibility and her backers that her government can achieve 2.5% growth, then tax measures will have to be taken. financed through debt.
And that has a clear impact on families, with the average mortgage holder paying more in higher mortgage costs than in tax-cutting profits.
All of that is causing serious anxiety among MPs as they look at the polls and the prospect of their own re-election.
Right now, a lot of people in the Sunak camp are keeping quiet, telling me they want to let this happen and don't want to target Truss publicly – yet. But two bystanders – former cabinet ministers Michael Gove and Julian Smith – are saying publicly what many are saying privately.
This is Mr Gove on Sunday: "I think there are two specific concerns I have about the non-refundable nature of the tax cut and about the 45p tax cut, which we now have the opportunity to address. Think."
He told journalist Christopher Hope at a Daily Telegraph event: "And I think it would be wise for us to realize that it is neither an economic nor a political response that is appropriate to the situation we are in. face to face.
When asked whether the policy should be reversed, he did not blink: "Yes."
'We can't clap for caregivers one month and cut taxes for millionaires months later'
And here's the warning from former director Julian Smith in response to chairman Jake Berry's warning on Sky News' Sophy Ridge show Sunday that the Tories voting against the small budget would lose the whip: The first job of a congressman is to act in the interests of their constituents and the national interest.
"We can't clap for caregivers one month and cut taxes for millionaires months later."
Subscribe to Sophy Ridge for free on the Sunday podcast on Apple Podcasts, Google podcasts, Spotify, Speaker
All of that seems to be falling on deaf ears, with the Prime Minister and her team adamant that her plans are right and that the mistakes of the past week are about communication strategy, not policy.
As one of her key allies told me: "The Prime Minister's receipt last week was disturbing", but "she is convinced that her plan for the economy is right.
"We've been stuck in a world of high taxes, cheap credit, and low growth for too long, focusing too much on taxes and spending at the expense of growth.
"That status quo isn't working, so we have to change course, otherwise we're going to hurt the economy and the country in the long run.
"We will do that and manage public finances responsibly."
Promote growth, favor investment, low taxes. That's the spell.
'There's still a lot of waste on different parts of the system'
The PM's cabinet and top team are also supporting her.
A senior minister pointed out to me on the eve of the conference that a major change in approach – the biggest change in economic approach for a generation or more – is "always disruptive." shock to the market" but the principles of leaving more money than individuals and businesses were correct, as were the efforts – and we'll see what this looks like in practice later this year – to cut reduce government costs (read: spending).
"There's still a lot of waste on different parts of the system," they said.
But can this government go that far?
Ms Truss has four days in Birmingham to try and sell her plan not only to her members and MPs but also to the country.
The problem she has is that a lot of people don't seem to be listening anymore.
A Prime Minister not to turn away and a parliament many MPs now think they have nothing to lose. Inner strap.