World
Ukraine dismisses key officials in anti-graft purge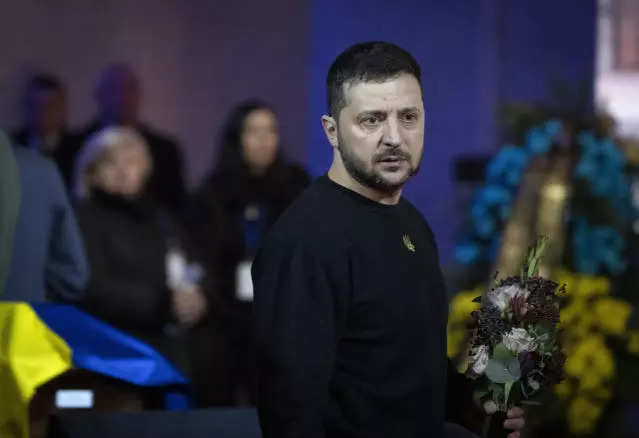 KYIV: Kyiv on Tuesday announced the sacking of dozens of top officials in the biggest political reshuffle following the country's first major corruption scandal linked to the Russian invasion.
Ukraine
has long suffered from endemic corruption, but Moscow's nearly year-long all-out war has overshadowed the government's efforts to eliminate corruption.
Western allies, which have allocated billions of dollars in financial and military aid to Kiev to counter the Russian military, often precondition such support for anti-corruption reforms.
Ukrainian President Volodymyr zelenskyy said in a speech Tuesday evening that cleanup was necessary and that additional measures would be taken.
"It's fair, it's necessary to protect us and help us re-establish relations with European institutions," he said. "We need a strong country, and Ukraine will be just that."
Presidential aide Mykhaylo Podolyak said the zelenskyyy had focused on "key state priorities" in firing officials, who include governors of fiercely fighting regions and deputy ministers. cabinet chief.
"During war, everyone should understand their responsibilities," Podolyak wrote on Twitter.
The shakeup comes after Ukraine's Deputy Minister of Territorial and Community Development, Vasyl Lozynskiy, was fired over the weekend after being arrested on suspicion of embezzlement.
Photos released by the National Anti-Corruption Bureau show cash seized at Lozynskiy's office.
The 36-year-old is accused of accepting $400,000 in bribes to "facilitate" the purchase of generators at inflated prices as Ukraine grapples with power shortages following Russian strikes against into the power grid.
– 'Good deeds' – On Tuesday, a key aide to the president Kyrylo Tymoshenkowho has worked with zelenskyy since the 2019 election, announced his resignation.
The 33-year-old posted a photo of himself holding a handwritten resignation letter, thanking the president for the "opportunity to do good work every day and every minute".
Tymoshenko has been implicated in a number of scandals, including an alleged personal use last October of an SUV donated to Ukraine for humanitarian purposes.
Oleg Nemchinov, a senior government official, also announced the departure of five regional governors and four deputy ministers.
They include the heads of the central Dnipropetrovsk region, the northeastern Sumy region, the southern regions of Zaporizhzhia and Kherson, as well as the area around the capital Kyiv.
Nemchinov also announced the dismissal of two deputy ministers of community and territorial development, and one deputy minister of social policy.
The Defense Ministry separately announced the resignation of Deputy Minister Vyacheslav Shapovalov, who oversaw the army's logistical support.
It comes after the Department was accused of contracting food for two to three times the prevailing basic food price.
– Spain holiday – The ministry insists the allegations are "baseless and baseless" but says Shapovalov's departure will "defend the trust of society and international partners".
Deputy Prosecutor General Oleksiy Symonenko also resigned, after it was reported that he was on holiday in Spain, allegedly using the car of a Ukrainian business.
The US welcomed the dismissal and said that none of the billions of dollars in US war assistance was known to be involved.
State Department spokesman Ned Price said: "The Ukrainian people have made very clear their desire for good governance and transparency.
Despite speaking out against corruption, zelenskyy herself has been involved in corruption scandals in the past.
In 2021, the so-called Pandora Files obtained by the International Association of Investigative Journalists said zelenskyy used a network of foreign companies to purchase three luxury properties in London.
His office said at the time that Zelenskyy, a former actor and comedian, had set up foreign companies to protect himself against the "aggressive actions" of his "corrupt" regime Pro-Russian President.
Viktor Yanukovych
.
Transparency International ranks Ukraine 122 out of 180 in its 2021 corruption rankings.