Lifestyle
United aircraft cabin battery fire, 4 people hospitalized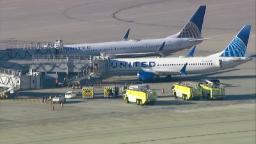 CNN
—

Officials say a fire from the battery of an electrical device on a United Airlines flight forced a plane that was in Newark to return to San Diego on Tuesday and took four people to the hospital.
Crew on United Flight 2664 prevented the fire from spreading further and the plane returned to the airport, according to a tweet from the San Diego Fire Department.
San Diego International Airport (SAN) spokeswoman Sabrina LoPiccolo said in a phone interview with CNN that emergency personnel responded and are now treating the passenger.
FlightAware data shows the plane, a Boeing 737 MAX 8, took off from the airport at 7:07 a.m. Pacific Time and landed back in San Diego at 7:51 a.m.
The fire brigade assessed all passengers and crew, and four were taken to hospital. Two others declined further treatment, according to another tweet from the San Diego Fire Department.
FAA spokesman Ian Gregor told CNN the fire was caused by the laptop battery. "The FAA will investigate," Gregor said.
The flight attendants believed to have put out the fire were among those taken to the hospital, according to the airline.
United Airlines spokesman Charles Hobart said: "Our crew acted quickly to contain the equipment and medical staff met the aircraft upon arrival at the gate. "Several flight attendants have been taken to hospital as a precaution and two customers have been assessed on the spot."
Hobart added: "We thank our crew for their swift actions in prioritizing the safety of everyone on board and we are making arrangements to get our customers to their destination. ".