Fashion
Van Cleef & Arpels Shows Summer Nostalgia With Perles D'Été
The ancient Egyptians revered turquoise, crafting the vivid pearl into jewelry and jewelry. (King Tut's burial mask is even decorated with stones.) Today, turquoise is being renaissance by jewelry designers, and Van Cleef & Arpels is leading the way. With the Perles d'été high jewelery collection of 12 pieces, the French brand introduces motifs in a fresh and luxurious fashion. Part of the house's legendary Perlée line, it features an Arizona-sourced turquoise set over gold beads, evoking sunny days under a blue sky.
The range, which includes necklaces, bracelets and rings, has a unique high-quality turquoise color, created thanks to a cache of stones obtained by Van Cleef several years ago. "Turquoise is a gem that is harder to find in the taste and selection criteria of the maison," said Nicolas Bos, CEO and president of the house. "We had the wonderful opportunity to come across these exceptional clusters of stones and we wanted to highlight them in a collection to enhance their beauty." Coral, both white and red, beautifully complements the collection's gems, while Van Cleef's signature gold gadroon detailing has been a fixture of the brand's designs since the years. 1940, making the provenance of the products clear.
The brand's trained gemologists have selected stones that are uniform in tone and free of impurities. The Brume de turquoise necklace features 19 gold-plated turquoise stones and a removable medallion pendant studded with diamonds and sapphires that took more than 800 hours to create. The Lueur d'été necklace is created from 39 sizable spheres, ranging in size from 10 to 23 millimeters, interspersed with lapis lazuli and coral beads. It can be converted to be worn into two shorter necklaces — one in a solid turquoise color, the other with more prominent lapis and coral. The Delta de turquoise bracelet features a unique rhinestone that is anchored by interlacing strands of diamonds and gold beads.
More from ELLE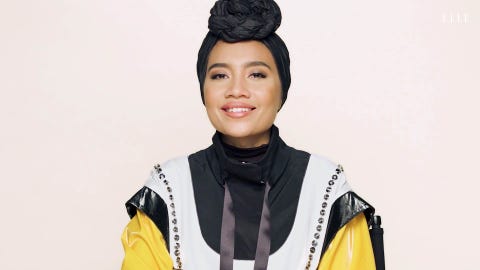 Van Cleef & Arpels has had prized decorative stones since its founding in 1906. Interest grew during the Art Deco era and reached new highs in the 60s and 70s, when the rise of Cocktail jewelry ushered in the era of oversized, boldly colored pieces. "During this period, the colorful aesthetic of decorative stone conveyed a sense of cheerfulness and playfulness [in] Boss explained. "They are often combined to create bright harmony and bring another dimension to high jewelry, blurring the lines between daytime and evening opulence." The house looks like a sense of energy and lightness found in its archives into the Perles d'été. What they created was a gift that sparkled like the desert sky.
Explore the Perles d'été . collection here.
Adrienne Gaffney is an editorial associate at ELLE, who previously worked at WSJ . Magazine and Vanity Fair.